include ("../hlavicka.inc"); ?>
PROFESSIONAL HANDCUFFS "RALKEM"
FULLY COMPLYING WITH THE N.I.J. STANDARD 0307-01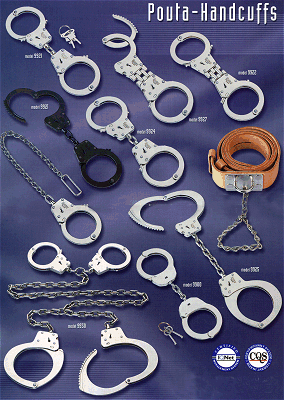 The handcuffs RALKEM are intended for sale temporary restraining and transport of a suspect, no matter of age or sex of the suspect. Handcuffs models 9900, 9921, 9923, 9924, 9925, 9930 use a chain between the cuffs. Handcuffs models 9922, 9926, 9927 use hinges between the cuffs whitch restrict the freedom of movement of the sespect's hands and legs. Double lock mechanism disables unlocking all of these models by any means but the original key. Design and engineering secure the safe operation of the handcuffs for Police, Security Enterprises and other users. Technical data:
Applicability for different wrist and leg size
Security lock disabling accidental or intentional tightening the jaws
Both sides unlocking availability feature
Anticorrosive surface treatment on all parts.
| | | |
| --- | --- | --- |
| Model | Specification | Weight |
| 9900 | with chain | 280 g |
| 9921 | with chain | 340 g |
| 9922 | with hinges | 370 g |
| 9922 | suitcase handcuff | 270 g |
| 9924 | with chain and hand-click | 360 g |
| 9925 | legcuffs with hand-click | 620 g |
| 9926 | restraint chain (with hinges and leather belt) | 370 g |
| 9927 | with hinges and hand-click | 390 g |
| 9930 | combination | 1300 g |
include ("/firmy/exim/pata.inc"); ?>