include ("../hlavicka.inc"); ?>
TONFAS
Tonfa - Side handle baton TF-24/59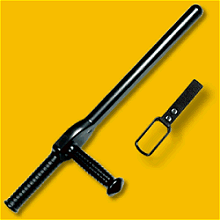 Length: 23,2'' (59 cm)
Weight: 510 g
Material: polypropylene We would like to take this opportunity to introduce to you our new product, which we have just put onto the market. It is a new model of tonfa type TF-24/59 (including the holder). We co-operated during the development process with the experts on handling tonfas from EU, Poland and the Czech Republic. We have fully implemented their experience gained in the training and the requirements of the police practice into the shape of this tonfa. 1. The straight handle of this tonfa is equipped with grooves for better grip and there is a head on its end, which prevents its snatching from a hand. 2. The tonfa has also a small heart-shape protector for the knuckles against injuries during defence and it simultaneously helps to distribute the power of the stroke to the whole area of the hand. This heart also stiffens the tonfa at the most critical place, therefore, making it very strong. 3. The button-shaped end of the lateral handle ensures suitable grip and rotation of the tonfa, a point at the end of the button makes it possible to use it as an effective hammer; for example, for smashing glass, etc. 4. The bottom part of the tonfa's body is flatt so that the tonfa fits perfectly in hand (it does not slip out). At the same time, when the stroke is directed against the forearm, its power is distributed over a larger surface. 5. The material used is heavy-duty polypropylene (it si a new type of material made in the USA). Technical data for Tonfa (side handle baton) type TF - 24/59 Weight: (without holder)
510 g
Length:
59 cm/23,2 inches
Grip length:

straight grip full length - 13,5 cm
side handle full length - 13,5 cm
side handle only grooved part - 11,5 cm
Diameter:

grip 31 mm
long part of Tonfa 32 mm
side handle change from 28 mm to 31 mm
Material:
HIGH RESISTANT
CHARACTERISTICS
TESTING METHOD
UNIT
VALUE
Flow stress
ISO 527
MPa
27
Elongation at fracture
ISO 527
%
150
Modulus of elasticity
ISO 178
MPa
1300
Izod notch toughness
ISO 180
@ + 23°
KJ/m2
12,0
@ - 20°
KJ/m2
6,8
Charpy impact strength notched
ISO 179
@ + 23°
KJ/m2
12,2
@ - 20°
KJ/m2
6,0
Holder:
Unbreakable polyamide (nylon) holder with nylon textile strap.
Leather holster on request (additional charge). HAND PROTECTION:
Here the difference is clearly seen when the hand is protected using the Tonfa type - 24/59 compared to the classical type of tonfa. The so-called "heart" deflects the blow and protects the hand joints. It also distributes the hitting power to a larger area of the hand edge.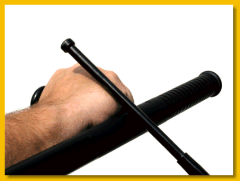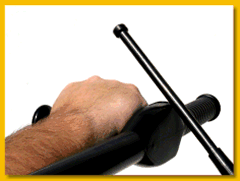 include ("/firmy/exim/pata.inc"); ?>